A lovely group of Virginia bloggers would like to show our appreciation of you by extending a bit of southern hospitality. You can follow along the blog hop to visit Virginia teacher blogs for terrific teaching tips and fun freebies to help get through the last couple of weeks before summer break.
Tips.
Well. Hmmmm.
You know what- the end of the year is a super stressful time. It might even be more stressful than the beginning of the year. At least in September, there's hope and optimism and newness. At the end of the year, it's all about proving yourself, and the clock's out of time, and endings.
So how do you stay centered and positive?
Tough stuff.
So here's my thoughts - in a clip-show format:
1) Stay Hydrated - click to read more

2. Do Something New and Fun
I got my first pedicure. After sitting in a massaging chair with my feet in warm water and then having them massaged by a kid who was not going to talk to me or force me into a conversation- I thought- Why the eff haven't I been doing this every week? So maybe we should change that from do something new and fun to GET A PEDICURE. Go. Now. Run. Save me a seat.
3. Be Social
Ummm, and I'm going to admit I struggle here. Because of, well, this: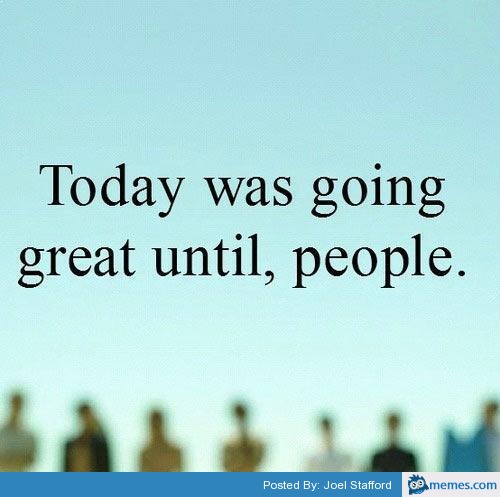 BUT. I am told by "professionals", yeah, ok, my therapist, that this is very important because human beings were not designed to be alone. I suppose. I'll go with it for now.
They key here is just be selective about with WHOM you are social. because you wouldn't want to be with someone that makes you think, well, this:
But don't get into a big ball of stress and then wallow in it by yourself. That's the point of going out with somebody and "hangin'. Yep - I'm so totally old. RAD. there. I'll make it even worse.
4. Hug somebody. Let them hug you back.
Just don't hug anybody. Focus, peeps. Be selective. Or it's going to get awkward.
5. Exercise
Which I laugh in the face of. Seriously. Can.not.stand.to.jiggle.and.sweat. It's safer to not move.
However, again, "professional" advice says I need it. And said professional also says EVERYONE needs it. It like, makes you feel better or whatever.
Obviously, I lack the motivation for this. I saw this picture today though:
No. Still not going to run. But- I think I will be taking my sister up on an offer of trying a yoga class. But I need a kid yoga class, I think.
6. Meditate
In general. I am uncomfortable with silence. I was recently made to do this with a lot of people, and I found it nearly impossible to concentrate because I could hear everyone swallowing. So, my tip- meditate by yourself.
We did do a really nice imagery exercise though, which I think in the long run is a good technique for releasing stress, and I think I might even put it into practice in my classroom. It's a flying a kite meditation.
First, you do your deep breathing and then imagine yourself on a grassy hill and the wind is blowing.
You need to get yourself a kite, and you have to imagine what color it is, and what shape it is and what it's made out of.
Then you notice it has a tail with five ribbons. Slowly, in turn, untie each ribbon, and write a message on each one before putting them back on your kite.
First ribbon- write your name and the first word or thought that comes to your mind.
Second ribbon - write the word love and the first word or thought that comes to your mind.
Third Ribbon - write the word worry and the first word or thought that comes to your mind.
Fourth ribbon - write the word hope and the first word or thought that comes to your mind.
Fifth ribbon - write the thing that is causing you the most stress and then the first word, phrase or sentence that comes to your mind.
Then fly your kite. Fly it for as long as you need to breathe deeply and feel quiet. Then- let the kite go and watch it float away into the clouds and disappear.
I did this one recently. I thought I'd be annoyed the entire time, but this one, I got relaxed into. No clue about half the things I came up with. I wrote the word Goldilocks next to my name, to give you an idea about how random it seemed. I'll be consumed with finding out why my brain thinks I'm goldilocks for the next week, to be sure.
But again- mindfulness. Not a bad exercise to do with kids.
7. Be thankful.
I found this neat post idea on how to make a gratitude web, in case maybe you think you only have one timy thing to be thankful for- you can make it into a whole page of things.
Alrighty- hope you relieve some stress in these last days. I've got a
freebie
cool clip art pack for you too- in honor of Virginia- our state bird, the cardinal life-cycle pack. Enjoy!
***This Cardinal Pack is now available at our TpT Store for a steal! And has been updated with three new digital papers. Click the pic to check it out!***
If that Google Drive Link didn't work- here, try DROPBOX
Update- I fixed the settings on Google Drive, but Dropbox still works too.
Love ya, kittens!
The next stop on the hop is: