And it freaks me out! Gads I hope I don't mess up!
*update* clearly I don't know my etiquette, and should have put in here that this here linky is hosted by Lindsey at The Teacher Wife. And also I did find a typing mistake and feeeexed it. Someone beat me with a wet noodle.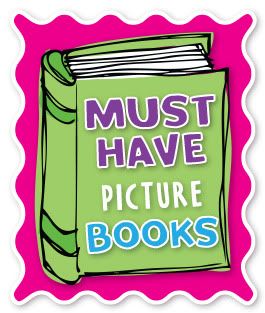 I love picture books. I love the technique in illustration. The precise language. The labor of love that they must have been to write, and how excited the children get to read them and share them and love love love on them. My classroom library has 40 baskets at this point, and I've bought more books this summer, so I know I'll have to add more come end of August. But I care not! I love them so! It's hard to pick the 5 BEST ones, but these are old favorites that I read again and again.
1.
When Pigasso met Mootisse
by Nina Laden serves many purposes. For one, the illustrations are excellent, showcasing both styles of Picasso and Matisse, two of my favorite artists. My second graders always think both styles are super cool, and want to try both out in their own drawings. Secondly, it's a great story for discussions on friendships, competition, respecting differences, and being unique. It's a great text to refer back to often when dealing with friendship issues in the classroom. And as a great third reason, the end of the text has real information of both artists, to provide that non-fiction link that kids actually adore. They LOVE finding out that these were actually real people.
2.
Roxaboxen
by Alice McLerran is a beautiful story! I used to bawl like a baby at the end every time...but they make a pill for that now, so now I just choke up a little.
Anyway, I tend to like books that do a lot of different jobs for me in the classroom. This book is a great example of memoir, and I can use it in Writer's Workshop as an example for writing about small moments. I also use this book as an introduction to my economics unit, as the children in the story create their own town, and it's a fantastic springboard for getting my kids to think about what they would need in their town that they are going to create. It also works for showing changes over time, which is a social studies standard.
3.
Tough Boris
by Mem Fox is AWESOME. I'm starting to worry that I'm running out of adjectives for this post. All of these books are incredible. What makes Tough Boris special? I use it for my illustration unit to show how the picture can show a story that the words don't tell. Which also makes it great for that Daily 5 lesson on Three Ways to Read a Book. This book has a repetitive text structure, which makes it great for the kids to quickly catch on and echo back the lines with you. And it teaches about stereotypes. You can spend the whole book thinking about how awful pirates are and then find out that they are capable of loving and being loved just like everybody else. But not in a hit over your head sort of way. This was also a tear jerker for me. The kids would be all, "Why are you crying AGAIN?" Ah, pills are good.
4.
Ms. Rubinstein's Beauty
by Pep Montserrat. I hesitated on this one when I found out that it's no longer being sold, which I guess means it's not being printed anymore? But I MUST post it, because it is, insert adjective that means so super fabulous beyond belief here. Look for it at yard sales, or borrow it from the library. This, like Tough Boris, works for teaching about stereotypes and how everyone is beautiful and has worth and how we all need to look for the good in people and be open minded.
BECAUSE
Ms. Rubinstein is the bearded lady at a traveling circus. I will not give away the rest. But it is a beautiful love story. *sigh*
5.
Miss Rumphius
by Barbara Cooney. Who, coincidentally, illustrated Roxaboxen. A sweet story about a woman who decided to make the world beautiful. I have always used this book as a beginning of the year read aloud and had the kids write a little paragraph about how they would make the world beautiful. Providing kids with opportunities to think about how to give back to the world is so necessary as we nudge their character building. It's a great example of memoir, small moments, beautiful language, and changes over time. I also want to point you in the direction of Wendy at
Teacher's Toolkit
, who also uses this book in her classroom. But she went an amazing step farther and has a free powerpoint of lupin pictures that she shares with the kids and then they make these gorgeous fingerprint paintings. It is an inspiring project, and I want to combine it with my writing activity and have the kids create lupin paintings for a bulletin board display and then put up our paragraphs of how we'd make the world beautiful. A great opportunity for text to self and text to world connections. Please go give Wendy a visit and give her props for her beautiful art project!
Oh this is sad! Only FIVE books! And now I wish I had been able to add in
Interrupting Chicken
by David Ezra Stein because of how it shows the writer's process, or
I Love Guinea Pigs
by Dick King-Smith with how it pairs non-fiction informational text features with memoir, or
Chin Yu Men and the Ginger Cat
by Jennifer Armstrong because it works in wonderfully with my Ancient China unit and character education, or
When I was Young in the Mountains
by Cynthia Rylant for small moments! There are so many. Sniff.